CHECK OUT OUR NEW AVIATOR TRAVEL JIB!
www.AviatorCameraGear.com
THE NICE CLIP!
"A super handy little widget."
- Wired
"It's a clip worth buying."
- CNET
"I am thrilled about The Nice Clip!"
- DIY Photography
Watch the Video WARNING: video contains a startling example of why you need The Nice Clip!
The Nice Clip is a light weight, low profile clip that sticks to your lens cap so you can clip your cap to your strap, camera bag, pocket, shirt, hat - wherever you want.
No more pocket lint covered caps.
No more "where did I put my cap?" Clip your cap so it's out of the way but always in reach. The Nice Clip works great with any size, style, and brand of lens cap from 46mm all the way up to 82mm and everything in between. (Lens cap not included)
Made in the USA.
Stick the clip to your desk or night stand and it becomes the worlds smallest cord catcher. Keep your mobile phone, laptop, iPad cables, USB cords, and more ready for when you need them. Cables slip into the clip and move freely while using your device. Unplug the cable confident that it won't slip behind your desk. Need to bring your cord along? It unclips just as fast!
Lens Caps
Top quality pinch-type lens caps are available in 52mm, 55mm, 58mm, 62mm, 67mm, 72mm, 77mm.
(Nice Clip not included.)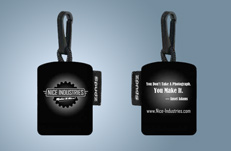 Nice Industries Lens Cloth
This handy lens cloth folds up into it's own little bag with the Nice Industries logo.
Custom made here in the USA.
Give our powerful silicone blower a squeeze. You'll never want to squeeze another.
Tip and butt Glows In The Dark!
Trade Secret Cards: An effective twist on photography education that will help you learn to become a great photographer fast!
---
We sincerely appreciate your business. Please
contact us
if you have any questions, comments, suggestions, or just to say hi!
---